Reasons to Approach Edysor Consultants
0
52
Education is the biggest asset an individual can possess in this contemporary world as it entails a happy and successful life. The competition among students has reached an all-time high in recent years, which has made the role of an educational consultant extremely critical. In these situations, students are constantly faced with the arduous task of choosing the right path for themselves as there are many opportunities out there.
In the current era, overseas or foreign education is every student's dream as it ensures brighter careers and a world of exposure to global culture. But studying outside India requires tons of paperwork, formalities, choosing the right course, selecting a quality university that is also affordable, and the list is endless. Though the internet provides a lot of information, it can not take the place of education consultancy, where the experts offer you invaluable advice on colleges, courses, accommodation, and employment.
How Can a Good Education Consultant Help Your Study Abroad Plans?
An overseas education consultant has a crucial role in helping and assisting parents and students with the hassle-free application process and other paperwork. From selecting the right country for you, an education consultant helps you select the right course along with course budgeting, visa processing, and scholarship aid. In short, an education consultancy manages all the nitty-gritty of studying overseas.
An international guidance consultant will equip you with detailed and extensive knowledge about study abroad. They are specialists in this field and aid you in making the best decision.

The education consultants know the most recent visa application requirements, rules, and regulations and can give you the simplest solutions to all these complex situations.

The overseas consultant would evaluate your profile and provide the best program possibilities and career options. They will assess your areas of interest and needs to help you understand the courses that will enhance your field of study.

Once the profiling is done, the consultancy will come up with the best universities and the best courses available in them so that you can make a well-informed final decision.

The consultants will then guide you with the documents needed for shortlisted universities. They help you assemble each document ahead of time.

The experts would also assist you in filling out the application forms.

They also help you prepare your funds which you can handle from abroad. They will give you information about education loans and help you get financial aid or loans from banks.

The experts would advise you on all sorts of scholarships available to you and how to apply for them. They know how to perfectly showcase your profile to qualify for either need-based or merit-based scholarships.

Your SOP (Statement of Purpose) should be excellent, honest, and stand out from others. The international education consultants are experts in this field, and since they are aware of your career goals and your scope of the study area, they can help you prepare an appealing SOP.

Acquiring a VISA to study abroad is a tough process, but the job gets simpler with an efficient overseas consultancy. They would help you prepare all the necessary documents for getting a VISA for your study abroad country. Though you can easily apply for a VISA online, the chances of getting your VISA accepted increases manifold when you are doing it under the guidance of specialists. The experts would hold mock visa interviews to prepare you for the interview, which will give you confidence when you go for the actual interview.

Once you receive an acceptance letter from a university, you still need the experts to help you manage finances, lifestyles, accommodations, etc.
Edysor - Your Friend in Your Journey Abroad For Higher Studies.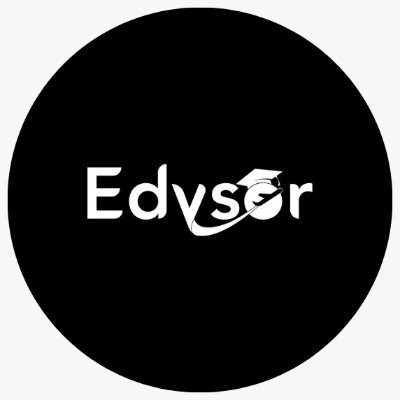 Edysor is a pioneer in the abroad education segment, and its motto is to solve all kinds of problems or needs of students who wish to study abroad. At Edysor, we strive to make the whole application process seamless and be by your side even after you get approval for admission to assist you with accommodation, cultural aspects of the new country, etc.
Edysor Edutech Solutions Private Limited was incorporated in January 2020 and is an unlisted private company that provides education consultancy.

You can conduct counseling sessions from the comfort of your home with our video and phone counseling services.

All the consultants at Edysor are certified to give you advice right from shortlisting universities based on your profile to applying, visa processing, accommodation, etc., all with just the touch of your fingertip.

Our counselors carve a well-thought-out plan for your abroad education in your dream university. They are up to date with any change in VISA requirements of your country of choice, legislation modifications, etc.